Hanwha Defence Australia CHANGWON Delegation
September 2022 Intro
At the invitation of Hanwha Defense Australia, a delegation of five Australian SMEs travelled to The Republic of Korea to visit the headquarters of Hanwha Defence manufacturing in Changwon.
The delegation, including Mark Wood from ZenithGroup, travelling from differing locations within Australia assembled in Seoul, South Korea, the world's 16th largest city and the nation's capital.
We have been struck by the sophistication within this city, the plethora of gleaming skyscrapers, the excellent road, modern rail and (so very clean) transport networks. By contrast, there are the 'old town' areas with winding narrow bumpy streets packed with small shops and so many people, it reminded us of old Rome or Athens.
We received terrific hospitality from our Hanwha Defense Australia hosts Millie Keating and Adam Walker, with our sympathies going out to Kevin Foard, the delegation leader who was forced to withdraw from the tour at the last minute.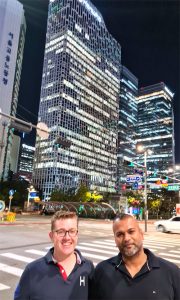 Friendly competitors,
Nic Carthew & Anton Fonseka
Delegation Day 1 • Hanwha Defense Australia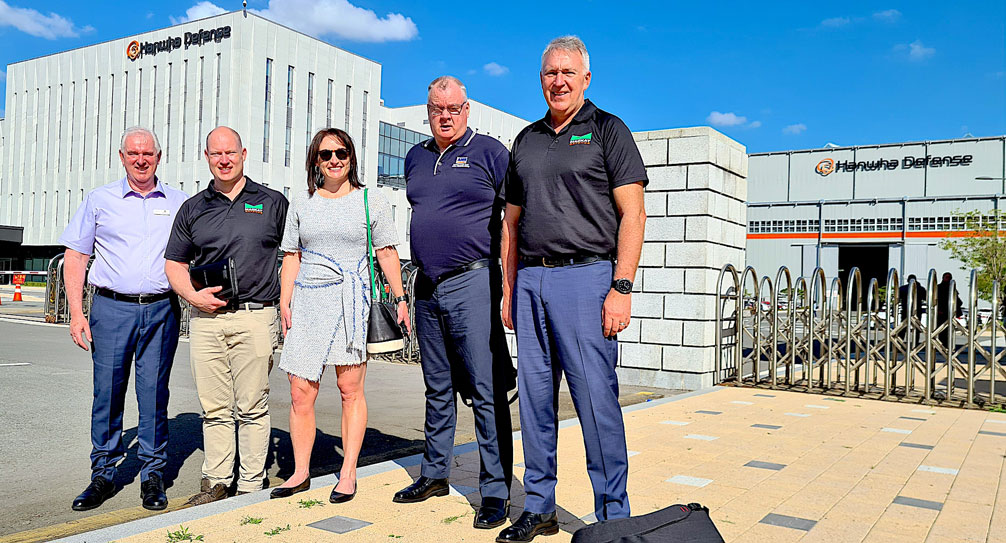 From Left, Mark Wood, Olaf Alm, Millie Keating, Martin Van Velzen & Graham Scull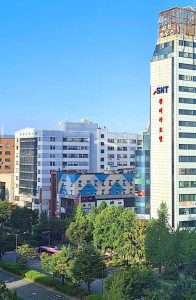 We arrived at the Hanwha Defense (HDC) manufacturing and headquarters, eagerly anticipating what lay behind the tight perimeter security.
The briefing was informative and interesting from our very cordial and polite Korean hosts. Each delegate in turn had the opportunity to present their business to HDC, which was well received. A sense of pride ensued as you listened to the offer and business achievements of each delegate, certainly the cream of what Australia has to offer.
We toured the vast temperature controlled manufacturing plant and witnessed first hand work in progress on the impressive production line – manufacturing to very high standards.
In the afternoon we were updated very thoroughly on AIC (Australian Industry Content) which was very well received.
Footnote: Changwon is a planned city with very specific zones for commerce, industry and residential. There's even a Hotel Canberra (right of pic.) paying tribute to another planned city in Australia.
Delegation Day 2 • Hanwha Defense Australia
Day two commenced at HDC headquarters with detailed briefings for varying parts and assemblies; we were getting down into the nitty gritty (the most important aspects or practical details).
There were many constructive questions and scenarios between the delegation, HDA (Hanwha Defense Australia) and HDC. The spirit of cooperation between languages and cultures was amazing, all wanting to pull the in the same direction.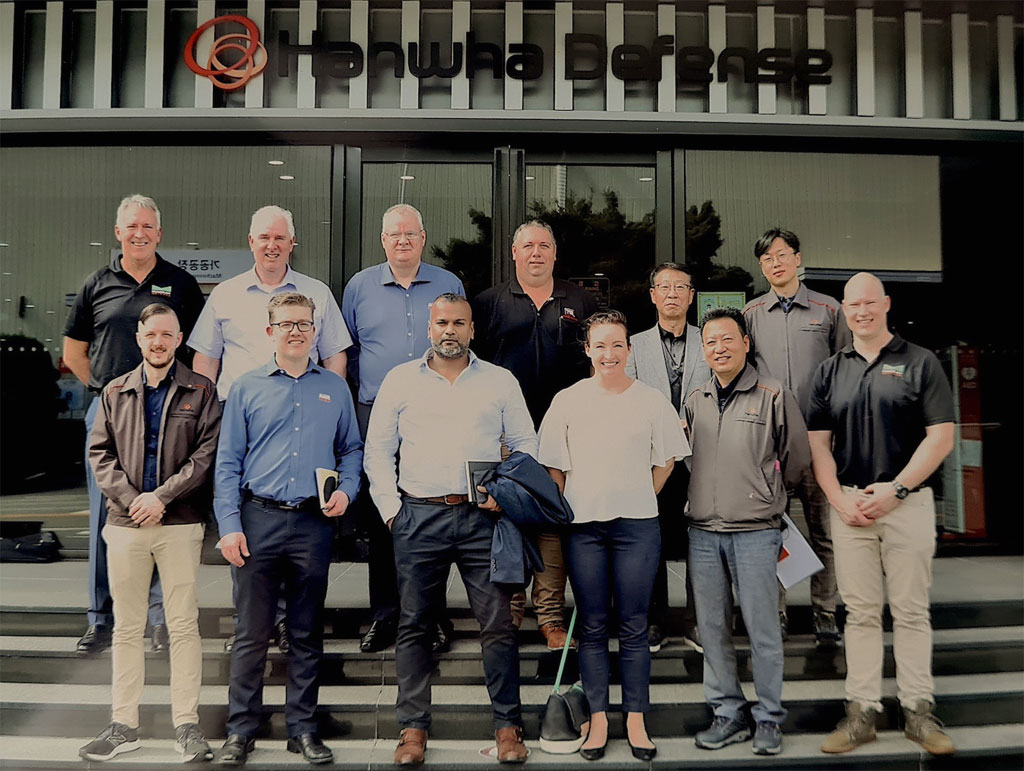 The hospitality is military, an amazing array of snacks, food and beverages at every destination and meeting – a step ahead of tea and biscuits.
We have been fortunate to have a team from HDC assisting the delegation throughout the tour – special mention to our new friend "Amigo" who is tirelessly present at every twist and turn as we navigate HDC and Changwon.
In the afternoon the group split and went to specialist industry sub/external supplier facilities. We were very fortunate and treated to the whole external supplier process from start to finish, a rare insight into the the how, what and why.
DX Korea • Defence Industry Expo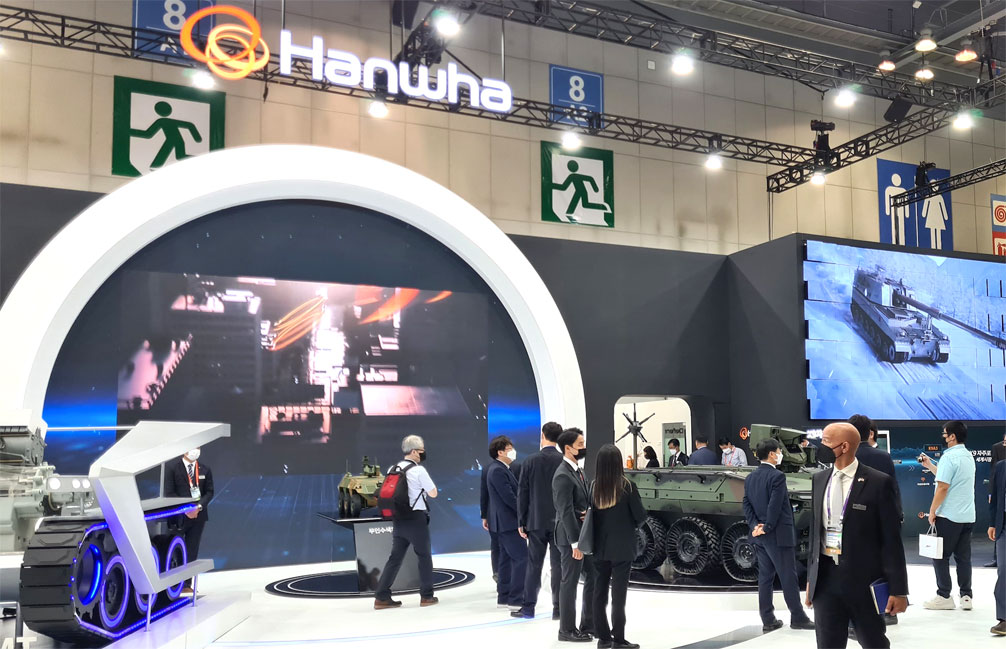 Visited DX Korea 2022 Defence Expo in Seoul today along with the Hanwha Defense Australia Korean Delegation.
This is a huge international show held at KINTEX, the array of exhibitors includes some of the biggest suppliers within the region.
The Hanwha display was amongst the largest, with significant equipment on display, including army landing craft capable of demanding land challenges, some of these new vehicles featuring latest generation armour.
We are fortunate to participate and whilst here, a proud moment with the signing of two agreements between Australian and Korean companies.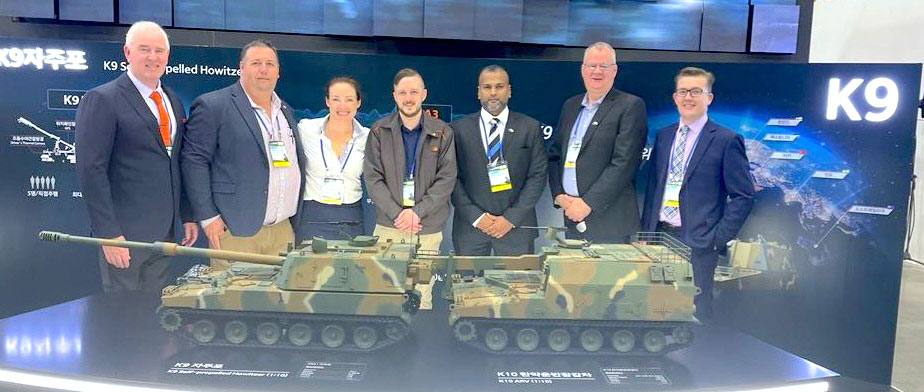 From Left – Mark Wood, Adam Packer, Millie Keating, Adam Walker, Anton Fonseka, Martin Van Velzen & Nic Carthew.
Land 400 Phase 3 Announcement
One year on from our tour to South Korea, it has since transpired that the Australian Government selected Hanwha Defense Australia to deliver the next generation of Infantry Fighting Vehicles for the Australian army.
Hanwha's selection is a boost for the defence industry and significant for Australian defence capability, positioning industry partners to flex its manufacturing capabilities and strengthen the economic cooperation between South Korea and Australia and their respective national supply chains.
The next generation of Infantry Fighting Vehicles for Australia
The Defence Strategic Review's assessment of a further 129 armoured vehicles to be acquired is a reduction in anticipated numbers, yet still represents one of the largest capability acquisition projects recently announced.
The Land 400 Phase 3 program sees the manufacture of the Redback Infantry Fighting Vehicle at the new HDA armoured vehicle centre of excellence, headquartered in the Geelong region. This world class IFV could have major implications as we see Australian industry deliver game changing capability in line with Australia's changing strategic environment.
With Hanwha Defense Australia winning this lucrative Australian Army contract as the preferred tenderer, plus the opening of Hanwha's facilities in the greater Geelong area, this is an exciting milestone for local businesses like ZenithGroup.
ZenithGroup and Australia's Future Strategic Environment
With the Defence Strategic Review's call for an Infantry Fighting Vehicle boost to Australia's land systems capabilities, high-value manufacturing and engineering capabilities that an Australian industrial partnership (such as what ZenithGroup offers) will assist the Hanwha Corporation.
The strategy to manufacture domestically out of Melbourne and regional Victoria is a game changer for the Korea-Australia defence partnership, and ZenithGroup is excited for this next phase.